Gelato – the amazingly delicious Italian ice cream made with fresh ingredients from a hodgepodge of food types and tastes. Because gelato is lower in fat than most other ice creams, it makes a more refreshing and healthier dessert. But you want to make sure you get the best quality gelato for your buck. There are many different brands that offer their unique flavors, and each brand has its own following among the foodies.
This article details the most famous brands of gelato and also places where you can find these brands.
Sure, ice cream is one of the most popular (and delicious!) frozen desserts and an all-time favorite of many people worldwide, but have you ever devoured authentic gelato that originated in Italy in Roman times?
Modern Italian gelato is an honest depiction of it, and many brands are gaining a competitive edge in the market by serving decadent gelato that will transport you to heaven.
In this blog, we will talk about the top 10 gelato brands you need to try this year, so keep reading ahead to know more about them and add them to your shopping list!
The Difference Between Ice Cream and Gelato
Before you start wondering why we've missed out on some popular ice cream brands while creating this list, let's clarify one thing— not all ice cream brands serve gelato. Not all gelato brands produce ice cream either. In fact, very few brands offer both.
Now, you must be wondering how gelato and ice cream are different from each other.
Well, ice cream and gelato both include 3 identical base ingredients: milk, cream, and sugar. However, authentic gelato uses more milk and less cream than ice cream and does not contain egg yolks, a common ingredient in most ice creams.
Gelato is denser, smoother, silkier, and more elastic than the American ice cream you've been eating since ages. It contains only 4 to 9 percent of fat, whereas ice cream has a higher fat content, usually between 14 and 25 percent.
The two frozen treats are also served differently. Gelato connoisseurs serve it a temperature of 10 to 22 degrees Fahrenheit, while ice cream shops serve scoops at about 10 degrees Fahrenheit. This makes gelato easier to eat since it causes less numbness.
Top 10 Gelato Brands
Now that you know the differences between gelato and ice cream, let's divert our attention towards popular gelato brands that are making headlines and will bring you closer to Rome, Milan, and Florence (places that are home to authentic Italian gelato)
1. Breyers Ice Cream Company
Breyers is an ice cream and gelato brand. William A. Breyer of Philadelphia founded it in 1866. His son then went onto establish the Breyers® Ice Cream Company in 1908. The company only produced ice cream at the time. Due to its success, Unilever® acquired Breyers in 1993.
Since then, Unilever has expanded the company's portfolio to introduce gelato!
Breyers® Gelato Indulgences™ has a rich and creamy texture and come in two decadent flavors: Raspberry Cheesecake Gelato Indulgences and Vanilla Caramel Gelato Indulgences.  They do not contain any gluten, lactose, dairy, or GMOs. There is no added sugar, as well. In terms of fat content, Raspberry Cheesecake carries 6g of fat, while vanilla caramel has 8g of fat.
The Raspberry Cheesecake flavor offers a delicious combination of cheesecake gelato mixed with delectable raspberry sauce and graham crumbles. If you enjoy rich textures and flavors, this one should be right up your alley.
On the other hand, Breyers Vanilla Caramel Gelato offers the goodness of vanilla gelato mixed with caramel sauce and caramel-flavored curls.
2. Talenti Gelato and Sorbetto
Talenti® Gelato and Sorbetto is a gelato and sorbet company owned by Unilever®. Josh Hochschuler founded it as a gelateria in Dallas, Texas, in 2003 and named it after Bernardo Buontalenti, a pioneer often credited for inventing gelato.
The brand only serves authentic gelato and sorbets. The company uses the highest quality ingredients sourced from all over the world to produce them. You can choose between organic gelato, vegan gelato, fat-free gelato, and gluten-free gelato. The sheer variety of gelato products offered by Talenti makes it a prominent brand in the gelato industry.
Talenti gelato is available in 40 different flavors. These include Salted Caramel Truffle, Caramel Cookie Crunch, Belgian Chocolate, Chocolate Cherry Cheesecake, Coffee Chocolate Chip, Cookies and Cream, and more.
Talenti Gelato and Sorbetto are made with only the finest ingredients available. They are crafted in small batches and never sweetened with corn syrup or sugar. The flavor combinations are from traditional Italian gelato recipes, enhanced with seasonal fresh fruit and hand-churned in small batches.
3. Gelato Fiasco
Two college graduates in Maine founded Gelato Fiasco when they could not find high-quality gelato in their city or elsewhere. Consequently, they felt a sense of responsibility toward introducing authentic gelato in the local market.
In 2007, they opened their first store by the name Gelato Fiasco in Brunswick, Maine. Today, they have two stores in Maine and sell their famous ice cream in more than 2,000 specialty, corner and grocery stores in the United States, such as Whole Foods Market.
Gelato Fiasco sells more than 1,500 different flavors of gelato and sorbets. They sell 11 of their most popular flavors, such as Dark Chocolate Caramel Sea Salt, and Maine Wild Blueberry Crisp in pints. The brand also offers nationwide shipping so you can enjoy all your favorite flavors at home!
Loyal customers can also join Gelato Fiasco's Red Spoon Society. You get to earn 2 points for every $1 you spend at their stores. Once you reach 100 points, you can avail them to receive awards such as a free dish of gelato. If you reach 10,000 points, you get to name a gelato flavor. Gelato Fiasco also invites its top-tier customers to create new flavors with them.
4. Ciao Bella Gelato Company
Number 4 on our list of top 10 gelato brands is the Ciao Bella Gelato Company.
The brand specializes in sorbettos and gelatos. Cousins Jon F. Snyder and Laura Grady founded the company in 1983 in New York City's Little Italy. By 1993, they managed to bring up their sales to $1 million by partnering with restaurants, cafes, chefs, and eateries. Zagat named Ciao Bella the "Best Ice Cream in New York" in 2002.
The company sells 16oz gelato pints in grocery stores all across the United States.
They have 9 different flavors. These include Amaretto Gelato, Chocolate Chop Gelato, Key Lime Graham Gelato, Hazelnut Gelato, Sweet Cream Gelato, and more. The brand also has an online shop and delivers all across the United States.
5. Dolcezza Gelato
Dolcezza is a coffee and gelato parlor located in Washington, D.C.
Established in 2004, the shop serves freshly-made gelato delivered to 8 shops and farmers' markets. By combining old, Italian methods and innovation, Dolcezza creates exquisite gelato in small batches every morning. Their gelatos use locally-sourced fruits, nuts, herbs, milk, cheese, and cream.
Dolcezza sells 10 different flavors of gelato. Their popular flavors include Mascarpone and Berries and Stracciatella. The names are inspired by authentic Italian flavors, and the taste will leave you longing for more!
6. PreGel Gelato
PreGel Gelato is one of the most popular gelato brands. Dr. Luciano Rabboni founded the company in 1964 in Germany.
PreGel is short for "pre-gelato," and the company is a leading manufacturer of premium gelato ingredients. It is present in 130 countries across the world, including the United States.
Instead of offering a finished product, PreGel provides ingredients for you to make the perfect gelato at home. It offers 5 different types of plain bases, 61 other flavored bases, 3 different fruit bases, 65 gelato flavorings, 4 types of stabilizers and texture improvers, and 60 different toppings and coatings.
The company is like no other and has received widespread acclaim for the idea behind it.
7. YoLyfe Gelato and Sorbet
A family in New York founded YoLyfe Gelato and Sorbet. The brand serves gelato, frozen yogurt, and sorbet. That's not all, though. They infuse their products with probiotics, too. As you may know, probiotics boost immune system health, ward off infections, improve digestion and fight obesity.
They are also very healthy for women. The brand's ideology combines healthy eating with eating what you enjoy.
YoLyfe has 17 gluten-free gelato flavors. Some of the most popular ones are Stracciatella, Crème Caramel Gelato, and Sour Black Cherry Amarena. You can get YoLyfe pints delivered for FREE at your doorstep if you live in the US.
You can even personalize your pints and subscribe to their Flavor of the Month club! Members of the club receive 4 pints every month in varying flavors.
8. Revolution Gelato
Jared Olkin, the founder of Revolution Gelato, created dairy-free, vegan gelato in 2010. His great-great-grandfather, who ran a soda fountain in NYC's Hell's Kitchen in 1924, inspired him.
The company serves 8 different flavors of gelato through their online store and across retail stores in the United States.
They also sell Mini Gelato Pies in 4 different flavors and Single Serve Cups in 6 of their signature flavors, such as Cardamom Spice and Full Throttle Vanilla.
9. Nancy's Fancy
Nancy's Fancy is an American gelato and sorbetto company based in Los Angeles, California. Nancy Silverton, the award-winning American chef, founded the company in 2015 along with her husband, Mark Peel.
The company uses local market produce and ingredients to craft creamy, organic gelato in 15 different flavors. Their popular flavors include Bourbon Vanilla Bean and Coconut Stracciatella.
You can find this popular gelato brand at retail stores and or get it delivered to your doorstep in the US.
10. HäagenDazs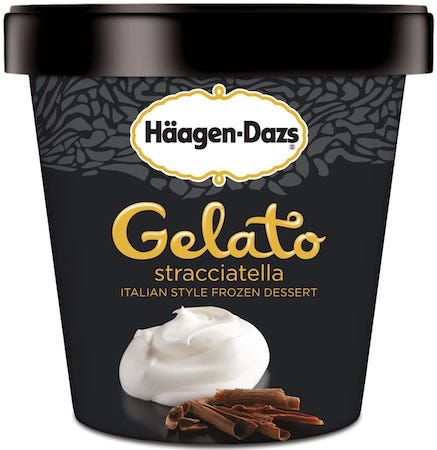 The last brand on our list of top 10 gelato brands is HäagenDazs®.
Initially established as an ice cream company in 1961, HäagenDazs® introduced  7 different gelato flavors in 2013. These include Black Cherry Amaretto, Cappuccino, Limoncello, Vanilla Bean, Stracciatella, Dark Chocolate Chip, and Sea Salt Caramel.
HäagenDazs® gelato has 50% less fat and 30% less sugar than their regular ice cream. It also has a softer texture, and you will be consuming less than 150 calories per mini cup. You can find HäagenDazs®'s gelato in retail stores, corner shops, and supermarkets.
Conclusion: Gelato Brands
A good, decadent pint of gelato is hard to find in retail stores, supermarkets, and corner stores in the US, especially with so many ice cream brands competing against each other for the top spot. However, we hope that with this list of top 10 gelato brands, we made your search for a heavenly gelato pint much easier than it used to be!